Keto Kitten' Winter Dragon Soup
A hearty winter dragon soup is a warm and comforting dish, perfect for cold winter days. It's traditionally made with tender pieces of chicken, carrots, celery, and onions and other vegetables, simmered in a flavorful broth. Let's skip carrots this time as we are trying to keep carb numbers as low as possible.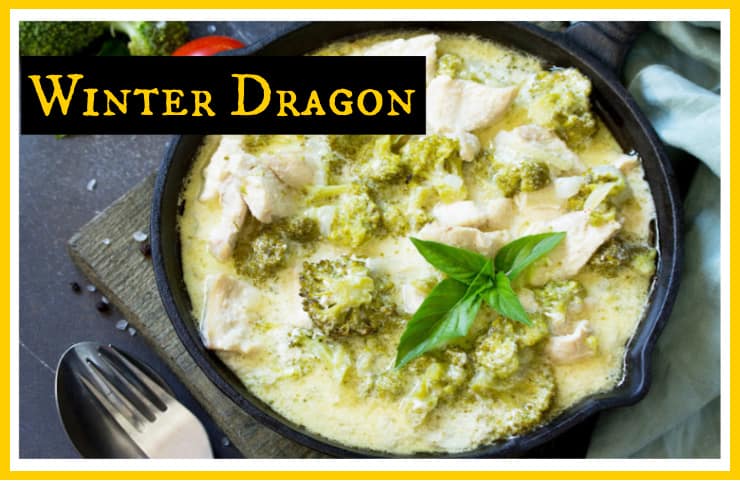 The broth is usually seasoned with thyme, rosemary, and bay leaves, giving it a rich, aromatic quality. You can customize it to your liking. Although it's thickened with ingredients like potatoes, noodles, or barley, making it a filling and satisfying meal, we will only be using keto friendly potato starch and pulp of the winter melon to thicken the stew.
Overall, a hearty winter dragon soup is a classic comfort food that is easy to make, filling, and delicious. It's a great way to warm up from the inside out and is sure to become a staple in your winter recipe collection. Make it on a night when everyone gets home in the evening after travelling, driving or walking through rain. They are bound to appreciate the warmth and comfort way more.
A word about winter melon, which is also called ash gourd by the way… if you have never eaten this before, you might have seen this in the asian market or even your regular grocery store, cut open and sold in pieces or segments. It's because they are large and it might be too much for a little family to buy.
These things are not really the bland looking boring vegetables they seem to be. Winter melon is rich in vitamins B and C, zinc, potassium, phosphorus, iron, dietary fiber, and other vitamins and minerals in trace amounts.They are great for heart health, kidney function and diabetes.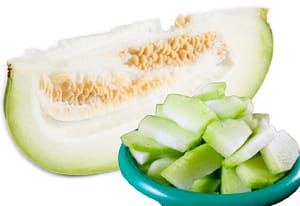 Ayurvedic doctors recommend that their patients drink a tall glass of winter melon juice when it's in season as it helps with blood pressure, cholesterol and blood sugar regulation..
By removing free radicals, it's also anti-aging and boosts immunity.
Sometimes I treat this soup like a "fridge cleanser". Bits of vegetables and leftovers lying around get thrown into the soup as well, and thats when the soup doesn't come out pretty. But hey, the proof of the soup is always in the taste, so don't judge a soup by its looks. Today I've only had some broccoli, so it took the place of carrots and potatoes and held itself well. 
Keto Kittens' Winter Dragon
Course: Soups
Cuisine: European, Keto
Stuff You Need
Chicken chopped into bite sized pieces 1lb

Winter melon 1lbs

Onions - one small

Celery - two stems

Broccoli or cauliflower, a cup or two

Butter or oilive oil - 2tbsp

Thyme 1/2 tsp

Bay leaf 1

Dried Rosemary 1/4 tsp

Heavy cream - 1/2 cup

Salt and pepper to taste
How to Make
In an Instant pot or pressure cooker, add chicken, one litre of water, salt to taste and pressure cook for 8 minutes.
Meanwhile, chop the wintermelon into golf ball sized pieces, onions and celery into bits and break broccoli/cauliflower into bite sized florets.
In a little butter or oilive oil, stir fry the onions and celery and then add the winter melon to it. Add a cup of water and let it cook for 5-7 minutes until the melon is tender. Let it cool.
When the melon mixture has sufficiently cooled, add it to a blender and blend until it's a smooth paste. Add this puree to the chicken without removing the broth.
Throw in the herbs and broccoli / cauliflower and let it come to a boil. It needs to simmer until the florets are tender.
Add the heavy cream, check salt for taste and add some pepper. Your Winter Dragon is ready to be served.
Please let me know if you made this or if you ahve a variation of this soup recipe. Email me at summer@ketokittens.com and follow me on Instagram, my handle is @ketokittensblog