Keto Kittens' Taco-sserole
At the end of a busy week day, you just want to spend less time prepping and more time relaxing while it cooks. Thats why we love our gadgets. I am so grateful for my kitchen slaves, a.k.a air  fryer, Instant Pot and stove top portable oven. I use Rival turkey baster for all my baking, so I don't have to crank up the big fat oven range.
So you can no longer have traditional tacos as they do not fit in with your keto lifestyle. So, always a modified version available, right?  If you haven't found one yet, here is mine. I haven't bought or eaten corn for years and I do not miss beans!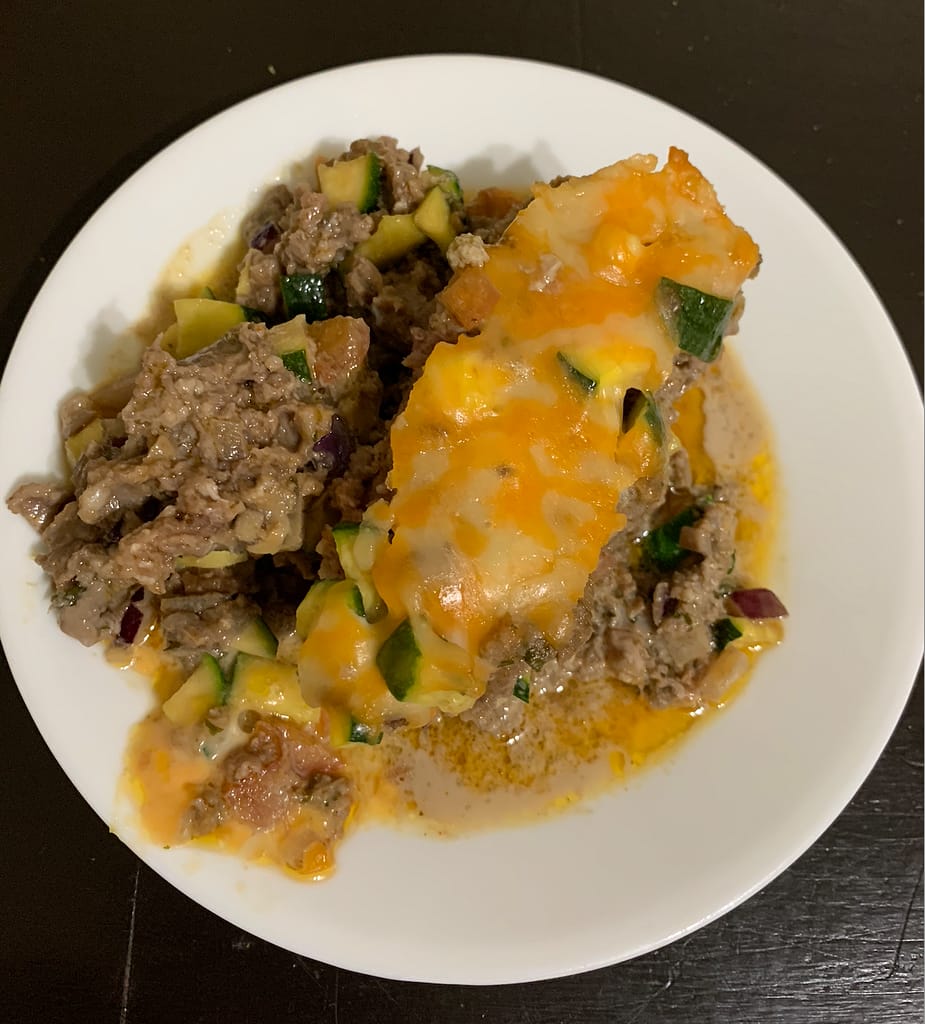 Use any cheese you like, I used the Mexican shredded mix from Costco, Kirkland Mexican Four Cheese Blend; Monterey Jack, Medium Cheddar, Queso Quesadilla, Queso Asadero. For seasoning. mix, I trust Watkins 1868  to produce the best ones.
Prepping does not ake a lot of time as it is just chopping and mixing. Be sure to thaw out the meat if you keep it frozen. I used zucchini here, you can do cauliflower, spinach, squash, carrots, raddish, brocoli or brussel sprouts. Serve directly in a plate or over a bed of lettuce, on its own or with a salad.
Leftover freezes very well. If you want a variety, throw in a couple of cups of home made bone broth, add some salt to taste, green onions and cilantro for garnish and call it a taco soup.
Keo Kittens' Taco-sserole
Course: Main
This is a Taco Casserole without all the non keto ingredeints of Taco. No shells, corn, beans or rice.
Stuff You Need
Minced beef 2lbs

Two eggs

One large onion fine chopped

One large zucchini chopped to bits

One large tomato chopped to bits

2-3 pickled dill chopped

3-4 pickled jalapeños chopped

One pack of Taco seasoning from Watkins

Mexican cheese mix one cup
How to Make
Gather everything except the cheese mix into a large mixing bowl and mix until the eggs and seasoning mix are fully incorporated.
Transfer the mixture into a oven friendly casserole dish and cover with tin foil.
Pre-heat oven to 350°F. Bake for 35 minutes.
Remove tin foil and spread the cheese over the dish. Add more cheese if you like. Bake uncovered for 7-8 minutes.
Remove from oven, serve hot with optional keto ketchup.