Keto Kittens' Winter Wolf Soup
Winter Wolf is the name given by Keto Kittens to this delicious winter soup, which is a traditional, flavorful and comforting dish originating from Chinese cuisine.
It is made by simmering pork ribs in a savory broth for an extended period of time, infusing the meat with the flavors of the broth and resulting in tender, succulent ribs.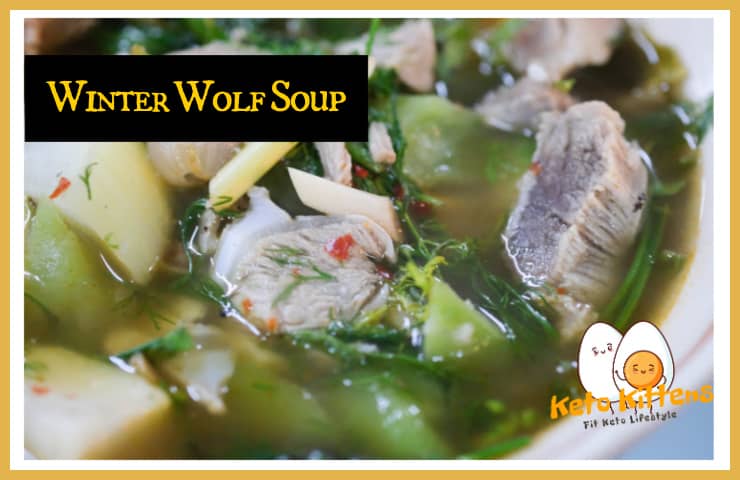 The broth is typically made by slow or pressure cooking pork spare ribs in ginger, garlic, chilli paste, soy sauce, rice wine, and other ingredients such as Chinese five spice, star anise, and bay leaves to add depth and complexity to the flavor. The pork ribs are usually cooked until tender in the broth and later the mushrooms and vegetables get added as they don't need t cook so long.
The soup is commonly served with rice or noodles, but we shall do neither here as we are aiming for low to no carbs. Overall, this soup is a hearty and nourishing dish on its own that is ideal for cold winter days or for anyone looking for a warm, comforting meal. Its blend of savory and aromatic flavors is sure to satisfy, making it a delectable  dish in our family and also among a lot of our keto friends.
When you are on keto and you are buying spare ribs, make sure there is still quite an amount of fat on them. Fat sucks in the spice flavours and gives out its own flavours better than the lean option.
And of course, where it is possible, it's best to go for pasture raised local pork.
Winter Wolf Soup
Course: Keto, Soup
Cuisine: Oriental
Stuff You Need
Pork Spare Ribs 1lb

Winter Melon 1lb

Bok Choy 4-5 stems

Shittake Mushrooms 6 large

Ginger Grated 1/2tsp

Chiili Garlic Paste 1 tsp

Soy Sauce 2tbsp

Rice Wine 1tbsp

Chinese Five Spice 1/4 tsp

Star Anise 1

Bay Leaf 1

Salt

Dillweed to garnish
How to Make
Wash the spare ribs and put them in the instant pot or pressure cooker along with ginger, chilli garlic, soya sauce, rice wine, salt, five spice, star anise and bay leaf. Pressure cook for 12 minutes.
When pressure lifts, open the cooker, add chopped winter melon, bok choy and shittake mushrooms. You can even add carrots, raddishes and chayotes. Simmer on low heat for 20 minutes.
Check salt, garnish with dill weed and serve hot.
If you made this in your kitchen, please feel free to use the Facebook comment widget below and post a comment and a picture of your soup! Or just say hello, don't be shy.