Spicy Keto Fish Soup With A Thai Feeling
This fish soup that feels like thai is perfect for a winter's supper
I love making this when there is a small amount of fish at home and plenty of last pieces of vegetables. The lemon grass and basil are a must for that nostalgic Thai feeling. Just go wild with any vegetables you might have. But, remember, no starchy vegetables on keto.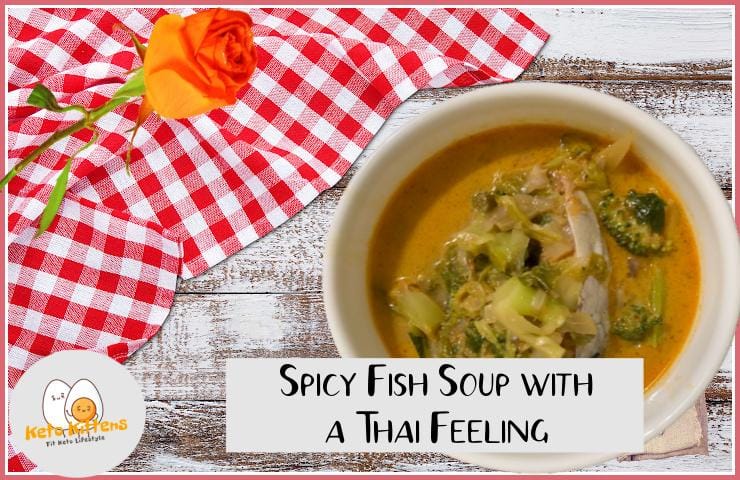 First things first, for the fish, if you are used to cooking fish with bone intact, then you should be able to use any fish. But if you are new to cooking or eating fish, I'd recommend fillets of any.
Salmon is okay, but I'd think white fish like pollock, bass and tilapia might go well with this recipe. 
You can also make this recipe with shrimp or chicken, but the fish really brings out flavours. I used bass  steaks with a tough bone in the centre and a few more stray bones. If there are bones, just eat carefully and don't choke on them. Make sure all the scales are removed before dropping the fish into the soup.
So, this was one of my "fridge cleaning" recipes. When you have small amounts of a lot of vegetables left in the fridge and you can't use any of them independently in dishes, a fridge cleaning salad or a soup or stew happens in my kitchen.
I grew up in the Konkani community in the south west part of India and generations before me have attached the combination of onions and ginger to fish. So when I sauté these three ingredients, I'm emotionally transported to my childhood where my aunts prepared fish curries and served it over hot red rice. We are going to create this dish with that nostalgic feeling.
If you are not used to an Asian kitchen, you might be confused with stuff like galangal, kefir leaves and lemongrass.  These are the base for the flavour in this soup. Two almond size pieces of galangal are enough if you have never eaten this root before. Limit green chillies, red chilli paste and ginger if you cannot cope with hot spices.
The bottom part of lemon grass is slightly woody and not easy to chew. I find that annoying that I have to chew and spit it out. So let's stick with the top part of the lemon grass… that is the grassy part.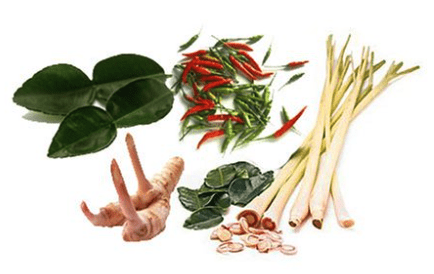 Top: Keffir lime leaves, red chillies. Bottom: Galangal root and more keffir leaves. Side: Lemon grass
Keto Fish Soup With a Thai Feeling
Stuff You Need
1 medium onion

2 tbsp of grated ginger

3 green chillies, small

4 pieces of fish (your choice)

2 tbsp of coconut oil

3 kefir leaves

A small piece of galangal

2 stalks of lemon grass

1/4 tsp of powdered Szechuan pepper

1 tsp of red chilli paste

1 small can of coconut milk

2 chopped cups of whatever vegetable you have

4 cups of bone broth

Salt to taste
How to Make
Heat the coconut oil in a pot. Saute chopped onions, grated ginger, finely chopped green chillies until onions are transparent
Add finely chopped lemon grass with whole kefir leaves and finely chopped galangal. Sauté for 30 seconds.
Add chilli paste, Szechuan pepper powder, salt and bone broth.
Once it comes to a boil, add the vegetables and cook for two minutes. Then add the fish.
Cook the fish for no more than 4 minutes. Take it off the heat and serve hot.
Be absolutely sure to not overcook fish. The delicate nature of fish and seafood requires extra care and attention during the cooking process. Because the muscles are much softer and the connective tissue is weaker than other land meat it is easy to overcook and ruin their flavours and textures.
I serve this in my family over rice. But if you are into keto, soup on its own is fantastic. Enjoy. Please comment below if you tried my soup and liked it.